February 11, 2011
Plokkfiskur: The unsung hero of Cod & Cask Festival
Tonight kicks off the 2011 rendition of our annual Cod & Cask Festival at the Schlafly Tap Room and that means it's once again time for…Plokkfiskur! That's right. What? Did you think I was going to say Fish n' Fries or Cask Beer? Oh sure, we'll have plenty of those to go around too, in fact at any given time we're going to have 13 casks of a variety of Schlafly beer styles tapped and pouring at our three bars. But in my humble opinion, the true, not-to-be-missed highlight of Cod & Cask is the traditional Icelandic dish: Plokkfiskur.
For the Plokkfiskur uninitiated, let me give you the very quick description of this heavenly dish. It's basically mashed potatoes that also has shredded whitefish in it. In our case we use Icelandic Cod. It's not exactly that simple, though. You see, we also melt a layer of cheese (or "Ostur" in Icelandic) across the top of the Plokkfiskur which is then baked to a tantalizing compromise between gooey and crispy and that's what truly pushes this dish over the edge from simply being an interesting take on traditional mashed potatoes. There's something unique about the textures, consistency and flavors that combine in the Plokkfiskur that simply…works.
Last year after Cod & Cask 2010 came and went, we received an email from one Valgard Jonsson (definitely from Iceland) singing the praises of his Schlafly Plokkfiskur experience. Here is but a sampling of what Valgard had to say:
"While living in Iceland one of my favorite meals at home was plokkfiskur. I have not eaten plokkfiskur for 59 years until Saturday evening when I did. Friends had told me that there was a Cod and Cask Festival at Schlafly Tap Room, 2100 Locust Street in St. Louis. I decided to go and see what the Cod and Cask Festival was all about because Iceland seemed to be so prominent in the news of the Festival.
While waiting for our table we decided to go to the second floor where a bar was serving and also a band playing. We also saw that there was a food service there and I spotted the word plokkfiskur on a menu board and I was sold on the idea of just eating there so I could taste the plokkfiskur as soon as possible. I couldn't wait to taste one of my childhood favorites.

We stood in line and soon I was holding a fork, napkin and a bowl with the plokkfiskur. I was tempted to begin at once to taste what was in the bowl but ambled forward showing restraint and some dignity to my Icelandic meal, trying to locate a place to sit, which we found soon because of other friends that had met us at the Tap Room. And I took the first bite and it was good and just like I remember it tasting. I had to seriously control myself not to just inhale the food quickly and then, perhaps, rush again to get another refill of the bowl. No, I savored the bites and made certain that I didn't take too big bites so this heavenly fest would last longer. And it did and I enjoyed the tasting sensation of the plokkfiskur that brought me back to the years that I was living then."
Wow! Now that is a Plokkfiskur testimonial if I've ever read one. Valgard's mind was completely blown…and he's from Iceland, so he knows his Plokkfiskur. Granted, he'd been on a forced Plokkfiskur fast for 59 years but I think that only further illustrates the power of the Plokk. So do yourself a favor when you come down to the Schlafly Tap Room for our Cod & Cask Festival this weekend and make sure you order a heaping plate of Plokkfiskur, a true Icelandic dish. I guarantee your taste buds will be thanking you. But don't just take my word for it, remember the power and emotion of Valgard Jonsson's words when he wrote, "I have not eaten plokkfiskur for 59 years until Saturday evening when I did."
Cheers!
Troika
Learn how to make Plokkfiskur from an actual person from Iceland!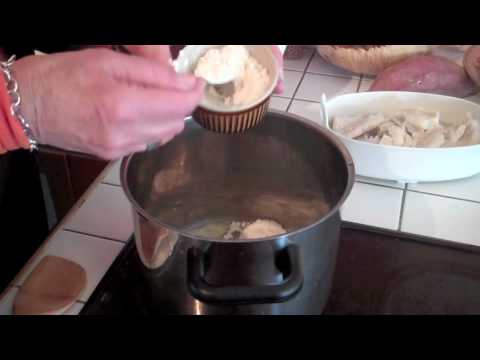 Margret, an Icelandic mother-in-law wants to teach you to make plokkfiskur.